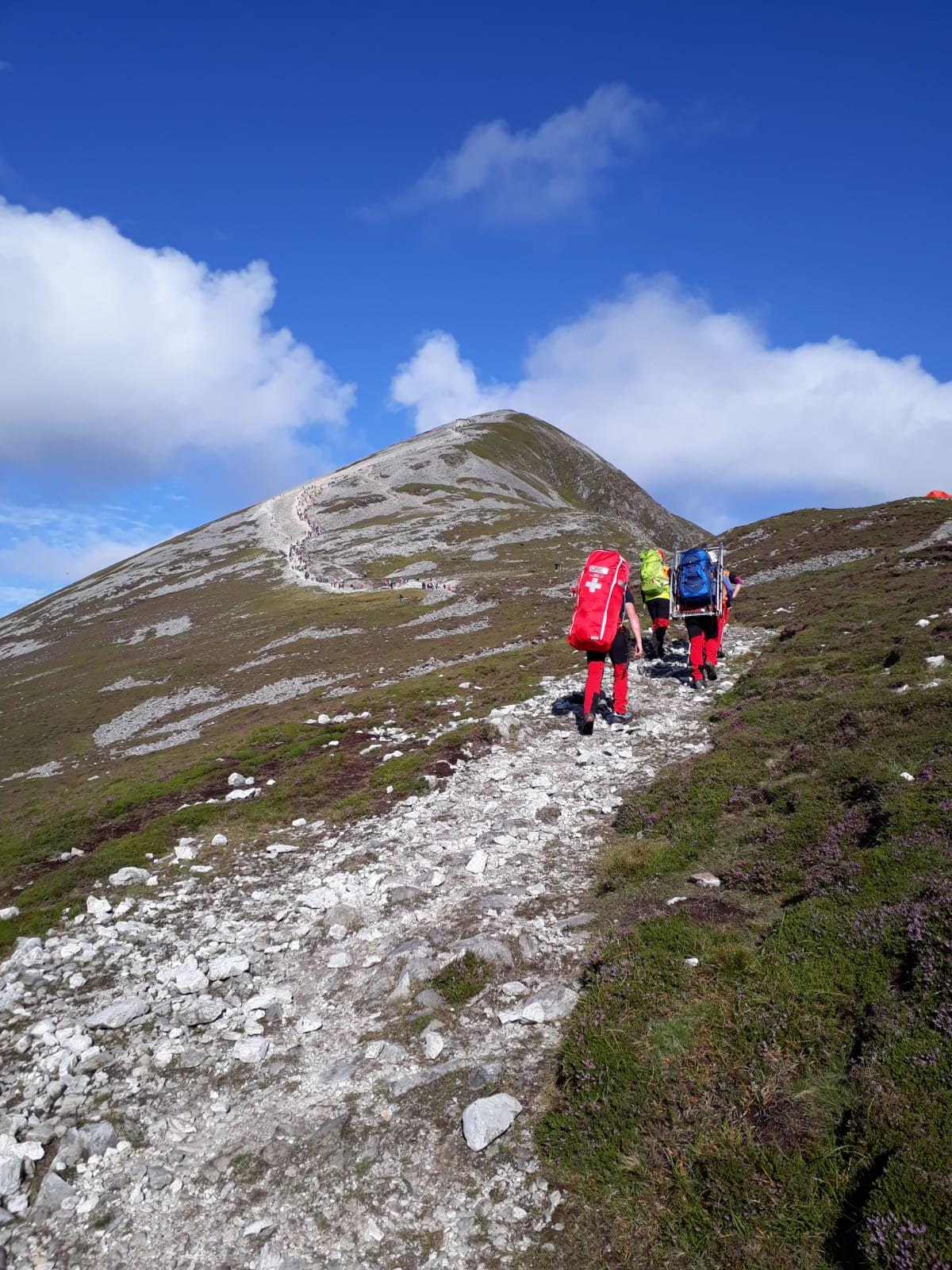 The Mayo Mountain Rescue Team (MMRT) will organise and co-ordinate the rescue and emergency care services for the approximately 25,000 pilgrims who will climb Croagh Patrick on the last weekend of July.  Many thousands will climb over the course of the weekend regardless of weather and since MMRT began the task in 1997, there has been an average of 20,000 in the 24 hours.
This is the biggest co-ordinated mountain rescue operation in Ireland each year and the MMRT sub-committee has been working closely with a large body of local and national agencies to ensure the smooth running of the rescue services.  Those organisations include:
Order of Malta – All local divisions
Mountain Rescue Ireland – all 11 teams
Irish Cave Rescue Organisation (ICRO)
Mayo County Council
Irish Air Corps
An Garda Síochána
Garda Cósta na hÉireann (Irish Coast Guard)
Civil Defence
Westport Church Authorities
Murrisk Development Association
Local land owners & volunteers
On average 120 mountain rescue personnel from the MR teams across Ireland and the UK come to assist in the operation. While it is the busiest weekend operationally for the Mayo Team, separately there were 38 callouts in Co. Mayo in 2018 which MMRT attended and an additional 17 incidents on Reek Weekend last year.
The Team advise that all climbers make safety a priority. We recommend the use of proper walking boots, waterproof clothing, food and water and to be mindful of fitness levels and ability of young children. The weather is very changeable and temperatures can vary by as much as 7 degrees between sea level and the summit. 
Safe climbing to everyone who is going to make the journey to Croagh Patrick this year.
Press queries can be directed to the Public Relations Officer at This email address is being protected from spambots. You need JavaScript enabled to view it., please include a contact number if you request an interview and information will be updated on MMRT Facebook and Twitter pages on Reek weekend.